Hello, guys! It's been a while. I'm fully aware that it's the middle of March (Where has the time gone?), but I figured I should wrap up February anyway. My existence in the blogosphere has basically been 0. My goal for the rest of March is to post at least once a week. 🙂
Right now, there's just a lot going on. I'm trying to get better at managing my time, but I should be back in full swing on this blog by Summer. Well, now that that's out the way, let's wrap up February!
Books With Wings
I read 13 books, which is kind of low for me. I was in a bit of a pickle where I had to read books for a school reading list that I really didn't want to. About 6 of those books were rereads, but that's okay. Sometimes, you just have to reread.
Favorite
The Hobbit by J.R.R. Tolkien was definitely my favorite this month. I don't know why I hadn't read it yet. Despite being a classic, I found it easy to read. I'm planning on reading The Lord of the Rings ASAP!
Least Favorite
I wasn't a huge fan of Pretties by Scott Westerfield. While interesting, it took a long time to read and I couldn't really get into it. I also found the ending very sudden.
(I don't like this version of the cover)
Notable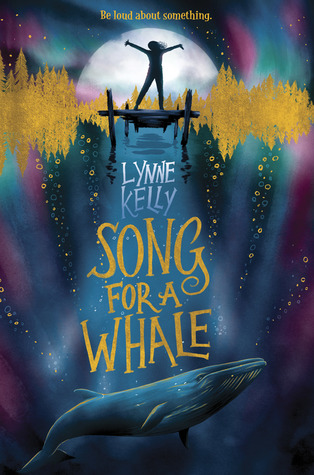 Song For a Whale by Lynne Kelly was beautiful. I found the whole story unique (A deaf girl who has a connection to a special whale and sets out to play a song for him) and I really, really loved it. Like with most middle grade books, I heard nothing about it on the blogosphere. So please, go read it! (Also this cover is #goals)
Writing With Wings
Just a little bit of writing happened. By that I mean I did not write every day like I planned to. Or even close to that. 😦 I did, however, get a new plot bunny that I'm putting on hold until after I finish the book I'm currently writing.
Dogs With Wings
What is this 'blog' you speak of? I know not of it. I only posted twice. One was a monthly wrap up and the other was a Rip It or Ship It tag.
This month, I'm planning on redecorating the blog a bit. I think it needs a bit of a spruce up. Since I'm discovering more about what I want to post about, I want my blog to reflect that.
Just keep that in mind while you're visiting the site.
Posts With Wings
This post from Penney was hilarious
I was inspired by Allison's photo shoot
Sarah celebrated her blogiversary with a creatively titled post
Goals With Wings
My dear goals, I'm sorry. I failed you. 😦
A smiley face indicates completion and frowny face indicates incompletion.
Last Month
Write every day 😦
Restart my BuJo 😦
Finish my school reading list (I had about three left at the start of March) 😦
Post 6+ times 😦 😦 😦
Reach 175 followers (!) 😦
Look into ARCS 🙂
This Month
Read 17+ books
Finish. That. Novel.
Post 5 times
Read an ARC
Audiosmiths' Update
We released one project, "A Comedy of Captives" which was based off Enni's story Blizzards. It's certainly our most light-hearted one yet. We didn't kill anyone off or anything! 🙂 I continue to be impressed with the voices the Audiosmiths can create.
Well, that was February. I hope y'all had a good month!
Are there any posts in particular that you want to see on this blog?