Happy February, guys! As you can see, I thought it was high time to bring back my monthly recaps. They were always my favorite posts to write, but alas, I haven't written one since June.
January seemed like a really long month, but at the same time, not really? A lot of things happened, including starting a new year! So, let's begin recapping it.
Books With Wings
I read 19 books. I'm really proud of that fact. A lot of them were hyped books or books I'd been meaning to read, so that was cool.
Favorites
Children of Blood and Bone by Tomi Adeyemi was so beautiful and heartbreaking. Though it was long, it was packed full of action. I really enjoyed it. My favorite character was Amari.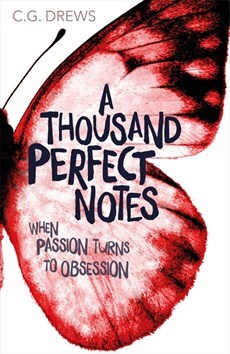 A Thousand Perfect Notes by C.G. Drews was close to perfect. It destroyed me, then put me back together. I adored all of the characters. I posted a review of it here. 
Least Favorite
Of the ones I finished (I DNFd The Wrong Train, which really creeped me out), I'd have to go with The Grimm Legacy by Polly Shullman. I found it interesting, yet confusing and rushed. I really didn't want to read it, but I had to for school.
Writing With Wings
Not bad. I didn't write a lot, but more than usual. I'm hoping to write every day this month. We'll see how that goes. 🙂
Dogs With Wings
I only posted 3 times. Sigh. I couldn't really find the motivation to post, but I have some ideas for this month. My tentative schedule is Mondays and Thursdays. We'll just ignore that today is a Friday. XD
I participated in Megan's BIBPC competition. Though we got in last place, it was still pretty fun. You can find all of the pictures on this page. 
My most popular post was my review of A Thousand Perfect Notes. I linked to it in the Books With Wings section.
Posts With Wings
Allison posted adorable photos of her bunnies
Olivia combined Taylor Swift and books in this awesome tag
Jo wrote this really cool letter to her future self
I loved Mya's 2018 wrap up post
After reading A Thousand Perfect Notes, this post was really interesting
Blog With Wings
I don't think I'm going to keep doing this like an award. I'll just doe shoutouts instead. It's been a while, so here are some of the blogs I've enjoyed reading lately.
Jo is such a sweet and funny blogger. Her posts cover almost every topic imaginable, but I love them all.
Jewel's a fangirl with everything from thought provoking posts to movie reviews on her blog.
Goals With Wings
I don't have any from last month, but here are some of mine for this month:
Write every day
Restart my BuJo
Finish my school reading list
Post 6+ times
Reach 175 followers (!)
Look into ARCS
Rose With Wings
In January I….
Rewatched Infinity Wars
Had a volleyball tournament
Had a lot of weird school days due to snow
Went to the school library almost every day for new books (I obliterated the new books section)
Fangirled because Shannon Messenger announced the title of KOTLC 8, Legacy! November 5! Mark your calendars, everyone.
Audiosmiths Update
We released "Hastrman", the story of a man who learns his precious stones aren't what they turned out to be and the aftermath of that. Our next project, "A Comedy of Captives" inspired by Enni's story Blizzards will be released in a few days. You can find all of our projects and more about us here.
Thanks for reading! I hope that you guys have a good month and that you accomplish all of your goals.
What was your least favorite book you read this month?