Hi guys! Welcome back! Thank you guys so much for all of your support on my blogiversary post. It means a lot that you all continue to read my blog! You guys really are (Winged) Wonders.
Some of my long time readers might know that my first post was my Top 4 Favorite Books. I posted that today in 2017. I thought that it would be fun to make this kind of a tradition. So, every year on June 26, you'll see 4 more of my favorite books. 🙂
Just a note, these are in no particular order. I can not pick favorites out of my favorites. No. I just can't! Okay, now we can proceed to the first book:
1. Harriet the Spy
I honestly don't know why I don't own this one yet. I had a period of about three years where I would obsessively check out of the school library. And then the public library. 😉 I would just reread over and over again.
The story focuses on young Harriet, a girl who wants to be a writer and has a love of tomato sandwiches. She goes around her neighborhood everyday on her spy route and discovers many interesting things about her neighbors and friends. But, when some of the people in her school find the notebook (And her notes about them), Harriet must use her skills to fix the mess.
I really admired (And admire) Harriet and her spunk. I looked up to her a lot and I love all of her adventures. She leaves me wanting more every time I read the book. The book doesn't seem as popular as it was, so I implor you to read it. I think you'll love it!
Everything, Everything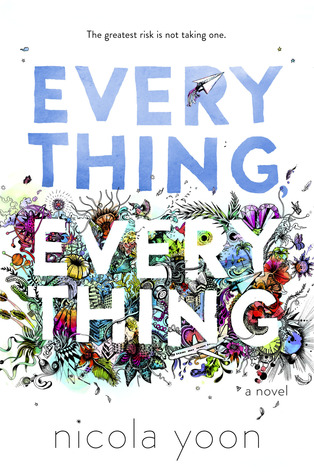 This was one of my first YA reads, and I loved it. I think that I read it in one sitting!
This book is about Maddy, a teen who can't leave her house because of her rare disease. One step into the outside world could mean death. Her only escape is the books she loves so much. They are enough, That is, until she meets Olly, the next door neighbor and is smitten. The only problem is that they can never meet.
This book is on the list because it's unlike any book I've ever read. The formatting is creative and every character is so three demensional. Maddy is one of those characters you want as your friend. I could just go on and on about it! 🙂
From the Mixed Up Files of Mrs. Basil E. Frankweiler
Despite its long title, this book is a masterpiece! I was first introduced to this during a read aloud book club. I propmtly went to the library to finish it on my own. It was that good.
This is the story of young Claudia, who, with the help of her brother Jamie, runs away to New York City and finds herself in the middle of an art mystery.
This is on the list for so many reasons! It's intriguing. It's written as though your friend was telling you a story (And who doesn't love that?) It's incredible relatable and funny. It's also kind of a "lost treasure", written in the 70s, but it's fantastic!
The Mother Daughter Book Club
This is a series (A really good one too), but my personal favorite is the first one. The story focuses on four completely different girls (Emma, Megan, Jess, and Cassidy) and the book club that their mothers start with them. Throughout sixth grade, the girls tackle queen bees, boys, family problems, and Little Women.
This is on the list because anyone can find a little bit of themselves in every character. I can relate to Emma the most, because she's a glasses wearing bookworm. Also, the girls' school exerience is very relatable.
This series is great for cuddling under a blanket with a pet!
Alright, there you have it! 4 more of my favorite books!
Before you go, please be sure to ask a few questions for my Q&A!
What are your favorite books? Have you read Harriet the Spy?