The countdown continues……
I'm really excited for today's post! I will be sharing some awesome quotes from star Wars and telling you what they mean, how  to use them, and how to live by them.
1. Do. Or Do Not. There Is No Try. -Yoda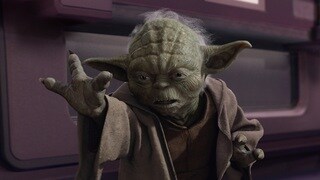 Yoda says this  to Luke during his Jedi Training. What this is saying is to put your best effort and go 100% for everything. Don't just try it, excel. (This is starting to sound like a shoe commercial) So to quote Nike,
Just do it

-Nike
You can easily use this one in every day life. For example, if some one on your sports team is not putting in enough effort, tell them this quote to inspire them to not just try, but to do.
As a book worm, you can use this when you want to red x amount of books in a year. Don't try to read 100 books, do read 100 books.
2. Chewie, We're Home-Han Solo
In The Force Awakens, Han says this when he and Chewie get back to the Millenium Falcon. This line is so good. Basically, what it's talking about is the feeling of going home for the long time in a while. If you were on vacation, you might start to miss home. This is how you feel when you get home again.
You use this when you walk through the front doors to your house in any situation. Back from school? Grocery store? Library? Use it. As a bookworm, use it when you re-read your favorite series.
3. May The Force Be With You-Traditional Jedi Saying
This is said many times throughout the movie saga, and it's a great quote. It's like saying "Good luck", but it sounds a lot cooler! You use this quote whenever your friend is leaving the room. Call out "May The Force Be With You!" As a bookworm, you can use this when you're friends are going to the library and hoping to find good books. As a blogger, use it at the end of a blog post. Like me!
May The Force Be With You!