If you are an avid reader, bookworm, bibliophile, or whatever name like that you consider yourself, then being in a reading slump is probably one of the worst things that can happen to you. As a person who recently experienced one, I can tell you it's hard to get through. I lost my interest in reading. I just didn't want to read. It was a chore, and reading shouldn't be a chore. It is a fun hobby.
If you don't know what a reading slump is, it's a period of time where you don't read, can't read, and in severe cases, cannot stand reading for whatever reason. Maybe you are busy, or maybe you're going through a bad time, or maybe you're just getting over the fact that pigs can in fact fly. Whatever the reason, you probably want to get out ASAP.
Luckily, I'm here to help. I have four methods to get you out of your reading slump and back to traveling to fantasy worlds!
1. Go To the Library
This is a huge one. My number one tip is to go to the library. You're probably in a reading slump because you have nothing to or nothing you want to read. A trip to the library can change all of that. By picking out new books that interest you, you'll be back to reading in no time!
Seriously guys, while I was in my reading slump, I had five books on the library shelf that I didn't want to read. When I came back, I had over ten books that I wanted to read. And I have barely put them down since.

2. Challenge Yourself
If you want to read, but you can't read, then maybe you should challenge yourself. Say, "I'm going to read three books by the end of this month." Then do it. Complete your challenge. Honestly, it doesn't matter how many books you read, what matters is that you do read.
Maybe you could even reward yourself a little if it's that hard. Preferably, you should reward yourself with more books. Tell yourself, "If I finish that series this month, then at the end of this month, I can buy that book on my to-be-read at Barnes and Noble and maybe even get a Frappuccino a the in-store Starbucks!" Yum, frappucinos.
3. Enlist Your Friend
Maybe you want to read, but you don't know what to read. Well, I could give some suggestions if you wanted. (#subtleselfpromo) or you could ask one of your friends for book recommendations. Then, you can read the book and talk about it afterwards. Maybe you could even have it at Starbucks and get another Frappuccino. (See how this is working out?)
Or, you and your friend could buddy read! You could pick a book and read it together and have a discussion about it. The only thing better then reading is getting to fangirl or intensely discuss a book after said reading.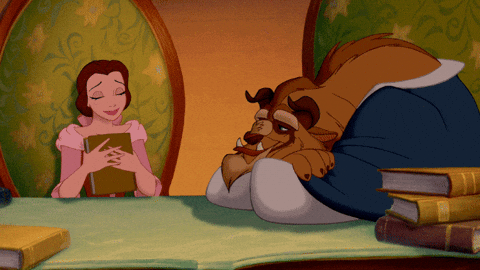 4. Read A Book (Or Two) From That TBR
Remember that book you've always wanted to read. Or maybe that and the one hundred more? Good. You can't get through that pile if you're bot reading! So, go to your mental or physical TBR and select a book or two from it. Make it be one towards the top. The one you need to read now.
Now that you've found it, go find it. Go to the library, bookstore, or Amazon.  Now read it. Think about it. You, reading that book that you really want to read. I think that's worth getting out of your reading slump for, don't you?
Okay, so maybe you've figured out which method to try, but are worried it's one book and done. It's not. You're allowed to check out more than one book from the library at a time. You're allowed to have a few books lined up to read. These methods are to help you find something new to read and/or to get you out of your reading slump. Basically, they help you get back into your reading habit.
May I add that Winter is the best time to read? Snuggling up with a book under a blanket near the fireplace sipping hot chocolate is just as great as it seems. So, to summarize, read. Have fun reading. Bon voyage!
Have you ever been in a reading slump? What's one book you can't wait to read? Need any book suggestions? I'd love to know!