Welcome back to another post! Today, I will be fangirling over I mean reviewing This Would Make a Good Story Someday (In case it totally wasn't obvious in the title…. :)).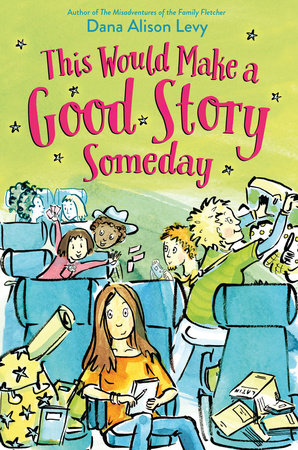 I got this book because I love reading books about young writers.  The title totally hooked me. And this one…. I couldn't put down. When I was done, I literally started reading it again. Let's see how long it's been since I've had one of these sort of books:
The book is the over 200 page summer journal of Sara Johnston-Fischer. Her summer before 6th grade was going to be filled with her Reinvention Project that she was doing with her friends. She was going to take up yoga, learn Latin, write a novel, and change up her style. That didn't go as planned. At all.
Just before Reinvention Month starts, Sara learns she will be spending August traveling the country by train, all because her Mimi won a writer's fellowship. This fellowship was for writers to experience America while incorporating life on train into a book somehow. Thus, her invention plan seems hopeless especially while traveling the country. Not to mention, the accompanying family:
Her Mom, a lawyer.
Her second Mom, Mimi who won the fellowship. She plans on using this fellowship to write a book about every moment on the train and at the stops. It's basically going to be an extension of her very popular mommy blog, which spares no detail.
Ladybug, her seven year old adopted sister who plans to spend the entire trip taking pictures of Bruce, a toy Roman Centurion.
Laurel, her older sister who is a serious environmental activist.
Root, Laurel's "partner" who is even more serious than Laurel about the environment.
So, um, yeah. That is her family. Got all that? Good!
Now, it's time to add in another character to the mix. with the whole trip and the Reinvention Project being pretty much ruined, there will be a second family of fellowship winners. This family has a boy who is Sara's age and who wears a cowboy hat. Now, just imagine this crew traveling the whole country.
Now read the book and experience it.
Basic Book Info
Title: This would Make a Good Story Someday
Author: Dana Alison Levy
Pages: 315 counting acknowledgements (Am I the only person alive who actually reads the acknowledgements?)
My Thoughts
Sara had a charming voice and (This is very few and far between in diary-like books) it was realistic! I could totally imagine her writing the journal.  Not to mention, the author, Mrs. Levy did not incorporate anything into the book that would make it not be able to happen in real life . It also featured postcards and letters which all added to the story.
There were some pretty funny/creative moments (i.e. the whole book), but as to not spoil anything, I'll give you the gist:
A giant Elvis cardboard cutout
Ducks walking through a hotel
Fun facts about each place (Featuring Sara's comments)
Not-so-fun facts written by Sara herself
And so many other funny moments that will make you laugh out loud
The ducks are actually real! They live at the Peabody Hotel in Memphis, Tennessee. Daily, they walk through the lobby.
On that quacktastic-note, it's time for my review:
I Give This Book 5 Out of 5 Pencils!
                                         ✏                    ✏                ✏                 ✏             ✏                   
You Thought Wrong!
You thought that after my pencil rating, it was going to be, "The End", right? Wrong! You get the privilege of hearing about my other friend who blogs, Alverdine!             Alverdine, is the friend I decided to spend the summer blogging with. She blogs at http://royalhighnesstalk.blogspot.com/
Her 'Welcome' post is one of my favorite posts of hers, which you can see here
http://royalhighnesstalk.blogspot.com/2017/06/welcome.html
Alverdine's blog is called Her Royal Highness, and on it, she gives you all the latest news about the Royals of the World. It's a very interesting blog, and I find myself learning new things from it. You'd be surprised how many things about the Royals you didn't know. So please, check her blog out. Now, it's really time for, "The End"
The End
          -Rose